Sections
Left Column
Text Area
In the annual intercollegiate short-form video competition, students unleash their talents and creativity to deliver sustainability messages that appeal to their peers. They will focus on themes that explore a timely sustainability topic, such as circular economy or environmental justice, and promote a zero-waste campus.
Text Area
Theme
Responsible Food Consumption
Deadline
31 May 2023
Eligibility
Individual OR group (max. 4 people) applications. Welcome all students and staffs from 8 members University of the HKSCC*

One video submission per application

Please submit the sharable link of your entry on Google Drive 
Right Column
Image
Image
Text Area
31st May
Application Deadline
Text Area
2nd-11th June
Public Voting on Instagram @jcsccp_hk
Text Area
15th June
Winner Announcement
Image
Image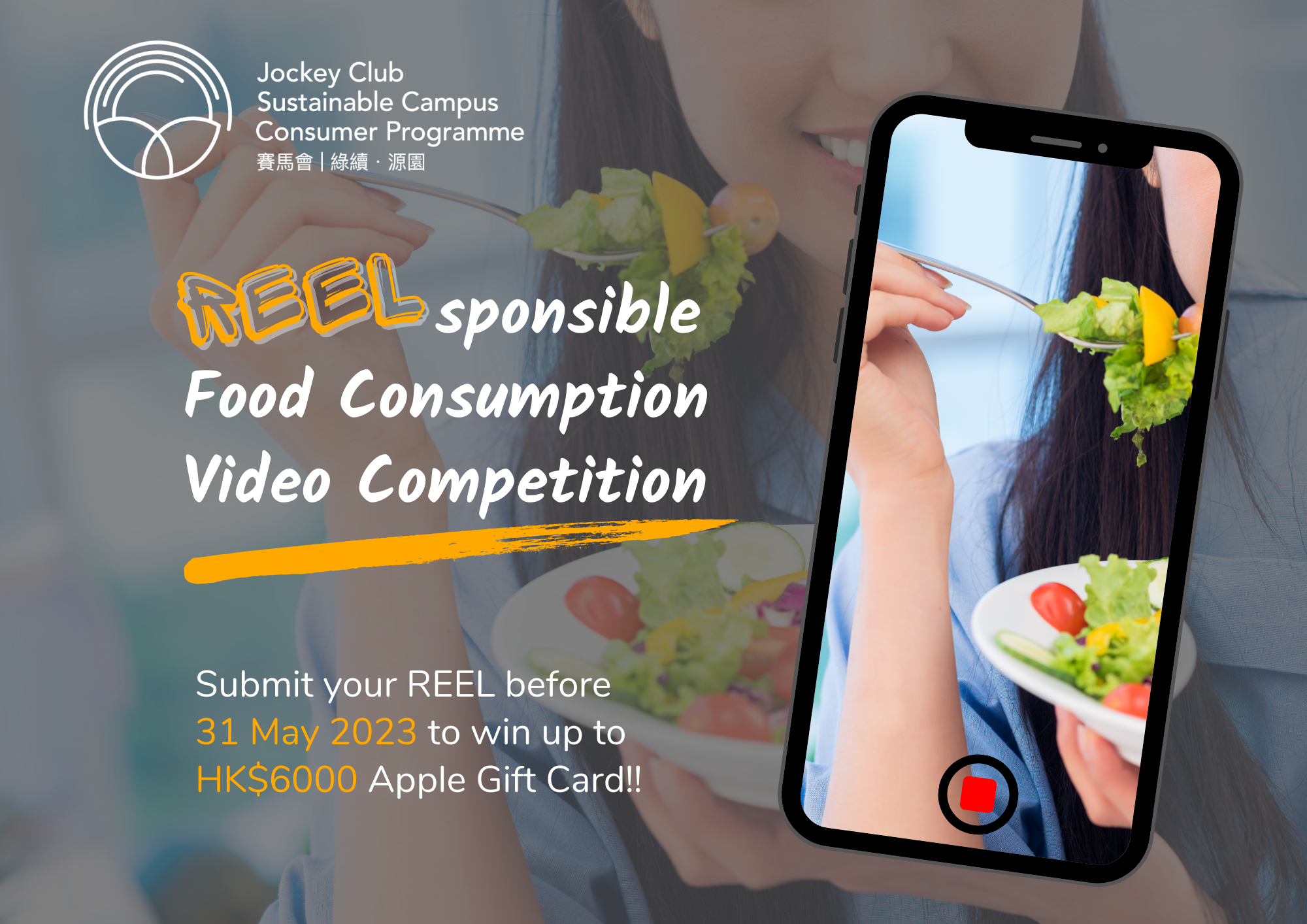 Text Area
Specification of Video Entries
Text Area
| | |
| --- | --- |
| Items | Requirements |
| Length of video | Max. 90 seconds |
| Presentation style | Instagram Reel |
| Video Submission | Please provide the sharable link of your entry in the application form. If you would like to add background music to your reel, please specify the song name, singer and the exact part you would like to use for your video (e.g. What It's Like by Alex G 02:14 - 03:00). If the music is not available on Instagram, no background music will be added. |
| Others | Participant(s) shall provide a caption of no more than 200 words in English explaining the concept and messages of the video |
Text Area
Judging Criteria
Shortlisted reels will be posted on JCSCCP's Instagram account for public voting. The 3 reels receiving the most likes by 11 June 2023 will win the competition.
Text Area
Prizes
1st Prize: Apple Gift Card HK$6,000

2nd Prize: Apple Gift Card HK$3,000

3rd Prize: Apple Gift Card HK$1,000
Text Area
Winner Announcement